Solar Removal and Reinstallation
Does your roofing project have a solar system in the way? Vanguard Solar performs more Removal and Reinstallations than any solar company in the state of Colorado. Whether your roof is hail damaged or just worn out, Vanguard Solar has a cost-effect solution for removing and reinstalling your PV Electric and Solar Thermal systems. We guarantee that upon completion, your system will be in better condition than when we found it!
Insurance and Roofing Contractor Coordination
Not sure how your solar system is tied into your insurance claim? We ensure a fast, comprehensive, and painless solution to your insurance process!
In your insurance claim, there is an amount allotted for the removal and reinstallation of your solar panels. Vanguard's in-house estimating team will create a bid based on your claim and work directly with your insurance company to approve our scope of work. As we work directly with insurance, none of our clients ever come out of pocket for our removal and reinstallation projects!
Once insurance approves our scope of work, we will coordinate with your roofing contractor for the removal of your solar panels. If you have not selected a roofing contractor at the time of your solar inquiry, we can help you navigate from the hundreds of local roofing partners we have worked with over the years.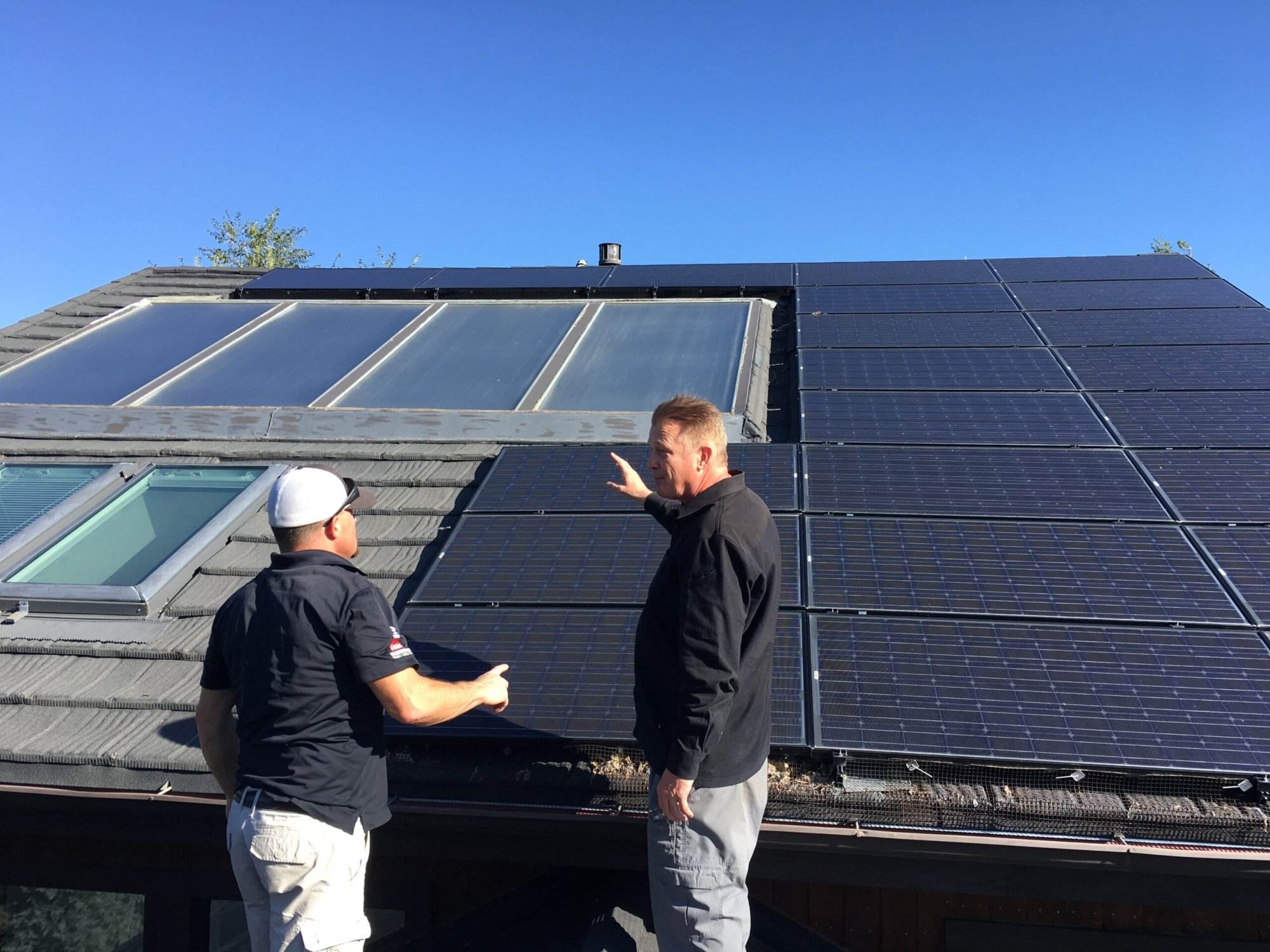 Dispatch and Diagnostics
Once a date is established in coordination with your roofing contractor, one of our NABCEP Certified PV Installation crews will arrive for the removal of your solar panels. Our team will first run diagnostics on your system's inverter to analyze your solar installation's integrity prior to it's removal, which allows us to repair any faults and process any potential manufacturer's warranty claims you may have. Our detach report will include mapping of your solar array, documented voltages, and photos of your solar array and inverter display.
Removal
After safely turning off your system, our crew will then remove all of the mounting hardware, electrical wiring, and panels and store them at a designated location of your choosing on your property. As your system is exposed to the elements year round, storing your panels outdoors is not an issue should you lack indoor storage space. The entire removal process generally takes anywhere from 4-8 hours depending on the size of your system.
Reinstallation
Once the new roof has been put up and passes inspection, our crew will promptly return to your property with a redesigned layout of your system's array to reinstall the mounting hardware, wiring, and panels so they produce energy in the most efficient way possible. Our crews will wear industry-standard protective footwear needed to uphold the integrity of your new roof as they complete the reinstallation of your solar system . This generally takes 6-12 hours depending on the size of your system.
Critterguard: The Finishing Touch
Vanguard can then provide a protective Critterguard mesh around your panels that will properly protect the underside of your solar array, keeping animals and debris from damaging any wiring or microinverters in order to keep your system producing at optimum capacity.